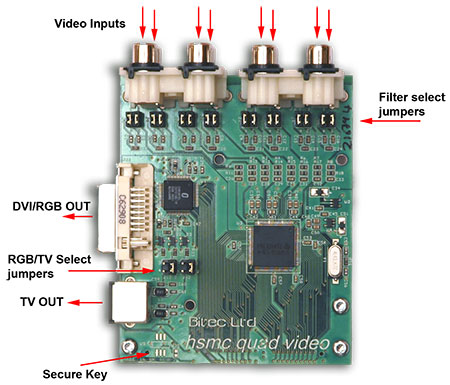 Features

Four Separate Video Decoder Channels
Accepts NTSC (M, 4.43), PAL (B, D, G, H, I, M, N), and SECAM (B, D, G, K, K1, L)
Support ITU-R BT.601
High-Speed 9-Bit ADC on each channel
Two Composite Inputs or One S-video Input (for Each Channel)
Total of 8 independent composite input streams.
Brightness, Contrast, Saturation, Hue, and Sharpness Control Through i2c
Four Independent Polymorphic Scalers
Standard Programmable Video Input Format
ITU-R BT.656, 8-Bit 4:2:2 With Embedded/Discrete Syncs
DVI Transmitter up to 165M pixels/second (1600x1200, 1080p, etc)
TV output supporting graphics resolutions up to 1024 x768 pixels
Support for all NTSC and PAL formats on video output
Provides CVBS, S-Video and SCART (RGB) outputs


 
The hsmc quad video board is based on the Texas Instruments TVP5154 quad video decoder. The analogue video inputs supported by the TVP5154 include composite video and S-video. In general, the video decoder converts the analogue video input signal into digital component data. This data and the associated clocks from the video decoder are sent to the host fpga via the hsmc connector. A pre-scalar is integrated into the device which allows real-time scaling of input video data. The device is controlled using i2c from the fpga.

Video output is based on the Chrontel CH7010B device. This device enables single-link DVI, component analogue and composite analogue video outputs. The device accepts digital, parallel video data and clocking from the host fpga via the hsmc connector. The host fpga is able to configure and monitor the device over an i2c link. A DVI output connector and mini-din output connector is present on the board.

The hsmc quad video daughter card also supports a serial eeprom for FPGA design security. Developers can distribute demonstrations of their IP locked to the hsmc bvdc card.