ACPM750E是一個三相 IGBT 電力電子模組 相容於 MSK / MCK24xx、MSK/MCK28xx發展模組。 這是一個智慧型交流裝置,可以發展許多型式750 Watts以下的交流馬達的高效率數位控制演算法 ,允許你驅動下列種類的馬達:
電磁感應馬達(Magnetic Induction Motors)

交流無刷馬達(AC Brushless Motors)

直流無刷/直流馬達(DC Brushless/DC Motors)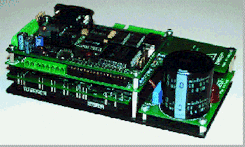 主要特色:
Special design allowing to plug in any MSK / MCK24xx or IMMC24x modules on top of the power module

Integrated power stage including a rectifier bridge and a 3-phase ultra fast IGBT inverter with switching frequency up to 24kHz

輸入電壓: 單相180到 240VAC在50-60Hz 或 3相110 VAC,和5VDC for logic.

輸出功率: 750W, 150% overload for 1 minute

輸出電壓: 0-230V

對於煞車/動力因素修正(PFC)的 IGBT驅動器。

控制輸入和輸出的標準MC-BUS連接器。

增加編碼器介面

Hall感應器迴授。

Tachometer input with adjustable gain factor

Potentiometer input

Galvanic isolated feedback signals for 2 motor currents and DC bus voltage

Protection to short-circuit, earth/ground fault, over-temperature and over-voltage

RS-232序列傳送接口。
Extended Power for MCK240/243/2407 Motion Control Kit:
The ACPM750E is part of a complete Digital Motor Control (DMC) development concept, based on the Motion Control Kit family proposed by TECHNOSOFT in co-operation with Texas Instruments. These tools offer high level graphical DSP motion programming capabilities which permit, in combination with the extended features of the TMS320C240/243/2407/2812 DSP controller, the implementation of effective digital motor control schemes for various types of AC motors.
Donload: