The EDK6446 development kit comes with the latest LEOs for DM6446 operating software. The target hardware development platform includes a DaVinci-DM644x evaluation board with a TI TMS320DM6446 processor and a 4.3" WQVGA (480x272) landscape TFT LCD touch panel, ready for 16:9 widescreen movie presentations. EDK6446 is the world's first DM6446 development kit available with LCD touch panel support.
EDK644x and LEOs for DM644x product family are made specifically for media devices in the mobile, set-top-box, and telematic applications. The video processing power enabled by the video/imaging coprocessor and the C64x+ DSP core in the DM644x is the most powerful feature of this new development platform. It provides major technical advantages in video/image/audio encoding/decoding, video analytic, image processing and sound processing. Those technical advantages can be applied in the fields of networked IP security surveillance system, wired/wireless networked digital media streaming system, automobile infotainment system, portable navigation multimedia devices, and videophones.
LEOs for EDK644x will allow you to more easily and quickly develop digital media applications. Application code can be written, with easy access via LEOS APIs to the C64x+ DSP core. No detailed DSP knowledge is required to access DSP functions.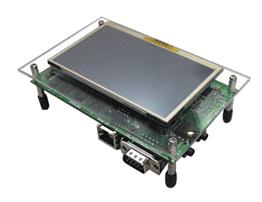 DOWNLOAD THE EDK6446 DATASHEET
LEOs® for EDK6446 Development Kit
HARDWARE
Development board with the Texas Instruments DM6446 processor; which includes an ARM processor running at 297MHz, and a C64x+ DSP core running up to 594MHz (DM6441 is in 405/513 MHz)
256MBytes of DDR2 DRAM
32MBytes NOR Flash, 256MBytes NAND Flash
1 video input port supporting composite
1 video output port supporting composite
Microphone in
Stereo Audio Line-in and Stereo Audio line-out
10/100 Ethernet
4 UART ports (1 RS232, 3 Rx/Tx)
USB 2.0 host with mini-A connector
Media Card Interface (SD slot)
I2C Interface
2 x A/D converter inputs
Rechargeable battery connector
One reset button and one sleep/wake button
Single +5V power supply
JTAG interface
Dimension: 140mmX80mm
4.3" TFT LCD DISPLAY
The DaVinci Display Module (DDM) consists of a high brightness Industrial Grade 4.3" widescreen (480x272) TFT LCD display with LED backlight and a touch screen. The DDM allows the user a widescreen view (16:9 aspect ratio) as well as user interface via the touch screen. It has connectors for mounting directly to DM6446 EVM Board.
Wide operating temperature range
480x 272 resolutions a widescreen view (16:9 aspect ratio)
High brightness
Wide viewing angle
Integrated touch panel
3MP DIGITAL CAMERA (Option)
SOFTWARE FEATURES
Linux 2.6 Kernel
Device Drivers:

4.3" TFT LCD display driver
Touch screen driver
Frame buffer driver
SD card driver that supports up to 2 GB, SDHC support coming soon

Optional DSP codec(s) are available
Uboot boot-loader
EDK6446 PACKAGE CONTENTS INCLUDE
LEOs for EDK6446 operating software pre-loaded on the NOR flash
CD including LEOs for EDK6446 operating software
SBC6446 Single Board Computer (SBC)
Technical Reference Manual
DDM (DaVinci Display Module)
Quick Start Guide
End User License Agreement