ZigBee™/802.15.4 Application Kit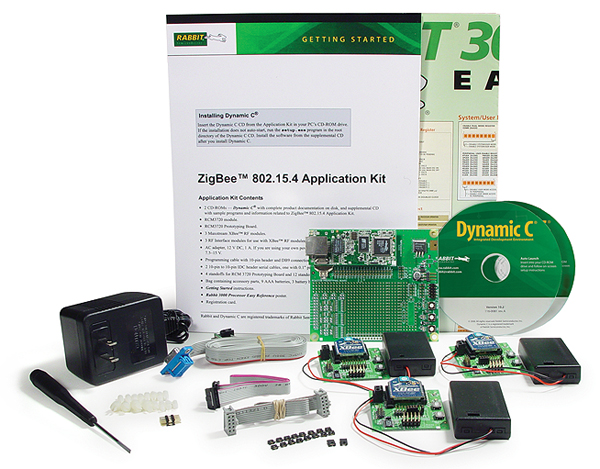 The ZigBee/802.15.4 Application Kit combines Digi's XBee™ RF modem with the popular RCM3720 RabbitCore™ module along with an easy-to-use interface to help customers build a practical ZigBee wireless control network. ZigBee paired with the RCM3720 provides a low-cost, robust wireless infrastructure that allows users to monitor and control remote devices within a wireless meshed network.
ZigBee is a wireless technology known for its reliable, low-cost, lower power characteristics, based on the established IEEE 802.15.4 standard for packet-based, wireless data transport. Rabbit®'s ZigBee/802.15.4 Application Kit provides all the tools to integrate a ZigBee wireless module into your Rabbit-based solutions.
The kit contains three Digi® ZigBee modules for full application reference. One ZigBee module is connected to an Ethernet enabled RCM3720 RabbitCore Module. The RCM3720 runs at 22.1 MHz, and provides 10Base-T Ethernet, 512K Flash, 256K SRAM, 1MB Serial Flash as on-board memory, and 33 GPIO lines. The other two ZigBee modules are standalone node devices.
Samples, libraries and firmware helps to integrate a ZigBee network into a Rabbit-based embedded solution. A user-configurable interface allows users to set up a network, discover other similar ZigBee devices, and control LEDs and switches from an RF Interface board as a node device. The samples illustrate how a user can connect via the various topologies such as point-to-point, point-to-multipoint, and mesh. The kit serves as a template for countless wireless applications where low power and low data rates are required.
Rabbit and Digi Teamwork
Rabbit Semiconductor and Digi are teaming up to supply embedded control and wireless solutions for customers to develop a ZigBee wireless control system. Digi's wireless modems are easy-to-use and provide reliable delivery of critical data between devices. The flexibility of the XBee/XBee-PRO™ RF Modules creates the perfect fusion of range, power-conservation, performance and networking features to ensure accurate and reliable RF communications.
Key Features
RabbitCore™ module running @ 22.1 MHz, and 10Base-T Ethernet. 512K Flash, 256K SRAM, 1MB Serial Flash as on-board memory, and 33 GPIO lines
Three Digi® ZigBee wireless modules and cables for simple connections
Sample programs and libraries that allow for simple digital I/O feedback and control, Ethernet to ZigBee gateway functionality, mesh networking communication
RabbitWeb™ simplified html programming software with refresh mechanism
User-friendly web interface for ZigBee/802.15.4 network setup, RF modem configuration, and firmware update functions.
Design Advantages
Reference application that uses a low-cost, low-power ZigBee 802.15.4 infrastructure to connect Rabbit-based devices
Supports topologies: point-to-point, point-to-multipoint and mesh
Easily scalable for commercial deployment applications
RabbitCore can function as a network coordinator, gateway, or control device
Applications
Low-cost wireless embedded control applications
Ideal for remote monitoring of equipment, devices, assets
Simple data logging applications
Control of meshed devices
Wireless I/O Control
Controlling XBee™ equipped devices
ZigbeeTM /802.15.4 Application Kit Specifications
FEATURE
RF Interface Module
RF Modem (Frequency)
Digi® XBee™ (ISM 2.4 GHz)
Compliance
802.15.4 standard (ZigBee™ compliant)
Performance
• Indoor Range = 100 ft (30 m)
• Outdoor Line-of Sight Range = 300 ft (90 m)
• Transmit Power Output = 1 mW (0 dBm)
• RF Data Rate = 250,000 bps
• Receiver Sensititvity = -92 dBm (1% PER)
Antenna
Chip antenna
Supported Network Topologies
Point-to-point, Point-to-multipoint, Peer-to-peer, Mesh
Number of RF Channels
16 direct-sequence channels (software-selectable)
Filtration Options
PAN ID, Channel, Source/destination addresses
Power (typical)
• Transmit = 55 mA @ 3.5–6.0 V
• Idle/Receive = 60 mA @ 3.5–6.0 V
Battery Pack
3 AAA each battery pack
Operating Temperature
–40°C to +70°C
Humidity
5% to 95%, non-condensing
Connectors
Two 2 × 10, 0.1" pitch sockets; One power connector
One 2 × 5, 2 mm pitch serial header; One 2 × 5, 0.1" pitch serial header
RF Interface Module Size
2.00" × 2.00" × 0.50" (51 mm × 51 mm × 13 mm)
(XBee™ RF modem extends 0.2" beyond edge of board)
FEATURE
RCM3720
RabbitCore Module
Rabbit® 3000 processor at 22.1 MHz
Ethernet Port
10Base-T interface, RJ-45, 2 LEDs
Flash Memory
512K
SRAM
256K
Serial Flash Memory
1Mbyte
General-Purpose I/O
33 parallel digital I/0 lines:
• 31 configurable I/O
• 2 fixed outputs
Serial Ports
Two 3.3 V CMOS-compatible ports confi gurable as:
• 2 asynchronous serial ports (with IrDA) or
• 1 clocked serial ports (SPI) plus 1 HDLC (with IrDA)
Serial Rate
Maximum asynchronous baud rate = CLK/8
Real-Time Clock
Yes
Watchdog Supervisor
Yes
Pulse-Width Modulator
4 PWM output channels with 10-bit free-running counter and priority interrupts
Input Capture/
Quadrature Decoder
2-channel input capture can be used to time input signals from various port pins
• 1 quadrature decoder unit accepts inputs from external incremental encoder modules or
• 1 quadrature decoder unit shared with 2 PWM chan nels
Power
4.75–5.25 V DC, 100 mA @ 22.1 MHz, 5 V; 78 mA @ 11.05 MHz, 5 V
Operating Temperature
–40°C to +70°C
Humidity
5% to 95%, non-condensing
Connectors
One 2 × 20, 0.1" pitch header; One 2 × 5 header for programming with 1.27 mm pitch;
One RJ-45 Ethernet jack
Board Size
1.20" × 2.95" × 0.89" (30 mm × 75 mm × 23 mm)