IP TV Tuner/Streamer 參考設計平台
簡介
:
IP TV Tuner 參考設計平台包含PNX-1500/PNX-1700-參考硬體設計並包含支援RF, S-Video, 和混合類比影音輸入,支援安裝調節器、PAL、NTSC、或SECAM標準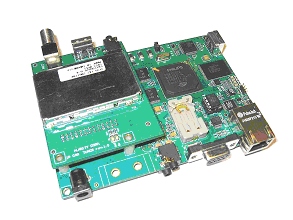 IP TV Tuner 參考設計平台包含韌體libraries和範例應用,並提供架構客戶化 TV Tuner韌體的能力
(Nexperia NDK),pre-built 範例應用針對立即處理來作預備韌體支援TSSA-compliant libraries,包含Alarity optimized MPEG4 encoder、G.711 and/or AAC audio encoder、 RTP/RTSP/RTCP影音串流,包含針對裝置控制、監視、各種輔助模組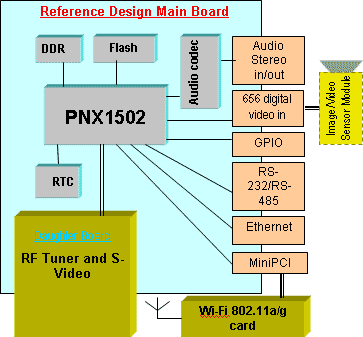 Features:
Complete reference design includes Nexperia PNX-1502 or PNX-170x media processor-based reference board and software.

16 Mb Flash memory for firmware and misc. files

64Mb DDR SDRAM

Philips FI1236 tuner module

RF (NTSC or PAL), composite/S-Video input

Multi-standard audio processor, allowing support for several broadcast audio standards, stereo encoding (A2, NICAM, BTSC Stereo, FM-Stereo radio).

Xilinx FPGA with customizable firmware allows adaptation to various video data formats, implementation of specific functions for automatic gain control and white balance modules, relieving the CPU from some computational load.

10/100 Ethernet interface

Composite/S-Video output

Analog audio input and output

GPIO and RS-232/RS-484 interfaces

Optional PCI interface for expansion modules (e.g., Wi-Fi card).

Real-Time Clock with battery backup.

Includes high-performance Alarity MPEG4 SP, ASP encoder component library

Audio signal encoding using G.711, G.726, AAC

TSSA-compliant component structure, allowing easy integration with customer's own firmware

Up to 30 fps D1 MPEG4 encoding

TSSA-compliant JPEG component for still image capture.

ISMA-compliant streaming using RTP/RTSP/RTCP over TCP or UDP.

HTTP-server for administration and configuration of tuner/streamer parameters.

Channel search and labeling, video input selection (through HTTP control)

UPnP support

Software designed to DLNA 1.0 guidelines ensures cross-product interoperability
Technical Specs:
Reference design
Hardware: Reference board with NTSC Tuner daughterboard installed, cables

Software: MPEG4 encoder and streaming libraries, BSP and other required libraries, source codes for example applications

Documentation: User guides, schematics, Gerber files
Reference board
Media processor: Nexperia PNX-1502 or PNX-1702 CPU (300 or 500 MHz)

Memory: 64 Mbyte DDR SDRAM

Flash Memory: 16 Mbyte NOR Flash

PCI/XIO bus: 32-bit, 33MHz

TV inputs: NTSC RF tuner, multi-standard S-Video/composite input (Philips SAA7113 decoder)

Video pre-processing: Xilinx Spartan XC2S200 FPGA with customizable firmware (video format customization, color conversion, pre-filtering, statistics

Video out : Philips SAA7121 video encoder, S-Video or composite output

Audio codec: Philips UDA1380 Stereo audio encoder/decoder

Audio I/O: Line In, Line Out, RF (with multi-standard Micronas MSP4450 audio processor)
 
Supported media formats
Video encode: MPEG4 SP, ASP, ISMA-compliant streaming

Stillimage encode: JPEG, accessible through HTTP server, FTP server, or for sending over SMTP

Audio encode: G.711, G.726, AAC

Communications: TCP/IP, RS-232
Software and interoperability
Standards:
ISMA, RTP/RTSP/SDP (RFC 1889, RFC2326, RFC2327), MPEG4 SP, ASP, DLNA 1.0 guidelines, TSSA-compliant component structure.
Application areas:
Remote viewing of TV broadcasts when away from home/office (e.g. watching favorite TV show while traveling abroad).

Converting broadcasts or other conventional video sources into cable or wi-fi "network video broadcasts" through intra- or inter-networks

Remote video monitoring
---