IP Camera 參考設計平台
簡介
:
IP Camera 參考設計平台 提供一個完整、靈活的硬體和軟體平臺。參考設計支援Nexperia PNX1502 多媒體處理器,以提供優質的video和audio的編碼。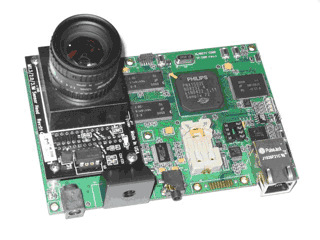 硬體的基本的方塊圖,提供libraries和應用範例准許容易的建立一個working video/audio streaming device 。同時, 因為提供的媒體處理器成分遵守被證明的NDK/TSSA Nexperia 程式標準,參考設計平台提工製造商客戶化解決能力、 集合各式各樣的影像處理函數到定製的韌體,如此解除網路並且/或者中央伺服器資源藉由"on-site" intelligence提供(像一些定製的圖像增強演算法、事件觸發等)。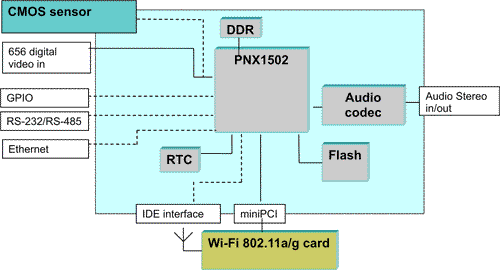 Features:
Complete reference design includes Nexperia PNX1502 media processor-based reference board and software

Supports CMOS sensor modules of several leading manufacturers (Micron, Foveon, Omnivision)

Includes high-performance MPEG4 SP, ASP encoder component library

Audio signal encoding using G.711, AAC

TSSA-compliant component structure, allowing easy integration with customer's own firmware

ISMA-compliant streaming using RTP/RTSP/RTCP

HTTP-server for administration and configuration

UPnP support

10/100 Ethernet interface

GPIO and RS-232/RS-484 interfaces

Optional PCI interface for expansion modules (e.g., Wi-Fi card)

Real-Time Clock with battery backup

" Software designed to DLNA 1.0 guidelines ensures cross-product interoperability
Technical Specs:
Reference design
Hardware: Reference board, cables

Software: MPEG4 encoder and streaming libraries, BSP and other required libraries, source codes for example applications.

Documentation: User guides, schematics, Gerber files
Reference board
Media processor: Nexperia PNX1502; TriMedia CPU

Memory: 64 Mbyte DDR SDRAM

Flash Memory: 16 Mbyte NOR Flash

PCI/XIO bus: 32-bit, 33MHz

Video sensors: CMOS Micron MT9T001, Foveon F34 Camera Module, Omnivision OV9650

Audio codec: Philips UDA1380 Stereo audio encoder/decoder

Audio I/O Line In

Connectivity: Connector for miniPCI extension board (e.g., for 802.11 card), Ethernet 10/100 RJ-45, RS-232/RS-485, GPIO connectors/buttons/indication LEDs.
Supported media formats
Video encode: MPEG4 SP, ASP(Up to 30 fps D1 encoding) , ISMA-compliant streaming

Audio encode: AAC, G.711

Communications: TCP/IP, RS-232
Software and interoperability
Standards:
ISMA, RTP/RTSP/SDP (RFC 1889, RFC2326, RFC2327), MPEG4 SP, ASP, DLNA 1.0 guidelines, TSSA-compliant component structure.
Application areas:
Video Chat

Remote Video Monitoring

Surveillance Systems

Security Systems

Video Conferencing
---