Accelerator Program 2.0 for WinCE 5.0
overview: The Accelerator Program for OMAP5912(Ver 2.0)on WinCE from Mistral comes ready with
WinCE 5.0 drivers and Board Support Packages (BSPs). It gives engineers a quick start on
their OMAP5912 processor-based development. The easy-to-use WinCE 5.0 BSP supports
a wide range of modules and drivers.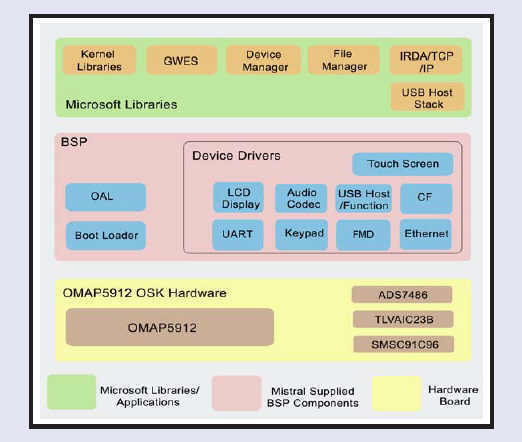 Modules/Drivers Supported:
Display driver for built-in LCD Controller
Touch panel Driver
Keypad Driver
Audio Driver Support for TLV320AIC23 Codec
CF Memory Card
Flash Media Driver
Ethernet Driver
Serial port Driver
Miscellaneous Persistent Hive Based Registry on NOR
Programs Available: Accelerator Package: BSP, Device Drivers and Documentation for WinCE 5.0
Consultancy : Professional services consultancy is available for support,
custom device drivers, BSP development, porting and board
designs.
---