Accelerator Program1.1 for WinCE 4.2
overview: The Accelerator Program for OMAP5912(Ver 1.1)on WinCE from Mistral comes ready with
WinCE 4.2 driversand Board Support Packages (BSPs). It gives engineers a quick start on
their OMAP5912 processor-based development. The easy-to-use WinCE 4.2 BSP supports
a wide range of modules and drivers.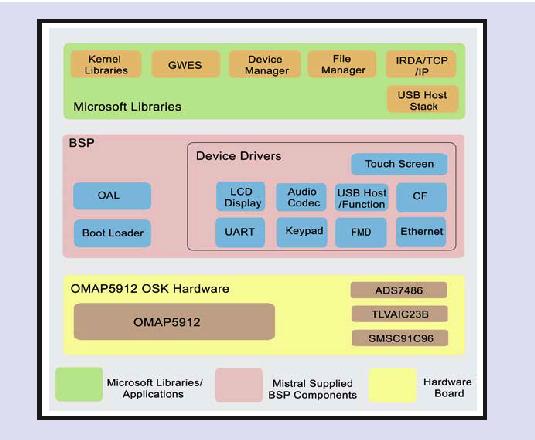 Modules/Drivers Supported:
Display driver for built-in LCD Controller
Touch panel Driver
Keypad Driver
Audio Driver Support for
TLV320AIC23 Codec
CF Memory Card
Flash Media Driver
USB Client & Host
Ethernet Driver
Serial port Driver
Miscellaneous Persistent Hive Based Registry on NOR
Programs Available: Accelerator Package: BSP, Device Drivers and Documentation for WinCE 4.2.
Consultancy : Professional services consultancy is available for support,
custom device drivers, BSPdevelopment, porting and board
designs.
---